VIRTUAL PERSONAL TRAINING
Personal Training + Nutrition Counseling
Virtual Personal Training is the same great customized product as in-person training but from the comfort of your own home. Being virtual allows flexibility in scheduling times and location. Connecting is so simple that you can even take your virtual personal trainer on vacation with you!
What are the benefits of Virtual Training?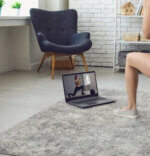 Flexibility to meet ANYWHERE – Vacation, snow day, home gym, park, etc.
Convenience to meet ANYTIME – Lunch hour, before work, after work, in-between meetings
No Drive time – If schedule is tight, you can get back to your life right after your session. And no fighting traffic!!
No need to pack up the children
How much equipment do I need?
Elaborate home gyms are NOT necessary for Virtual Personal Training. Typically a few pieces of equipment works just fine.
Essential Equipment: Pair of Dumbbells (Optional: Light, Medium, Heavy DB's)
Optional Equipment (but definitely not necessary):
How do we meet virtually?
We can use any of these free apps for our Virtual Personal Training:
Virtual training can be done on a Tablet, Laptop, or Phone. We can talk through the set up of downloading necessary apps, hooking up devices, etc. to make the process smooth and successful.
Can I do a hybrid of in-person training and virtual personal training?
Yes of course! We have a lot of clients who take advantage of both options and love the flexibility. It can even change week to week if your schedule changes last minute.
How do I get started?
Contact us to set up your initial consultation virtually. We can also talk through the logistics of your technology set up to get the most out of virtual training.